School Kids Lunchbox Inspiration
Feb 02, 2021
We've put together some fresh lunchbox ideas in our latest blog post just in case the old ham & cheese sanger isn't cutting it anymore.
The best thing since sliced bread
Where would folks across the globe be without sliced bread?
It's a pantry staple and lunch box standard, generally enjoyed by most kids and slapped together super quick on hectic school mornings! But if you're finding trusty squares of ham & cheese aren't cutting the mustard anymore!
Or you'd just like to encourage more variety into their diet, it might be time to consider some tasty alternatives to make lunchboxes fun! Little changes can create enough interest and variety to entice even the fussiest of eaters! Turns out the best thing since sliced bread may just be… well, more bread!
Heard of a sandwich kebab? A little different from the late-night munchies kind – a sandwich kebab includes bread and any other tasty, healthy snacks you can thread onto a skewer to resemble a sword or wand – but edible!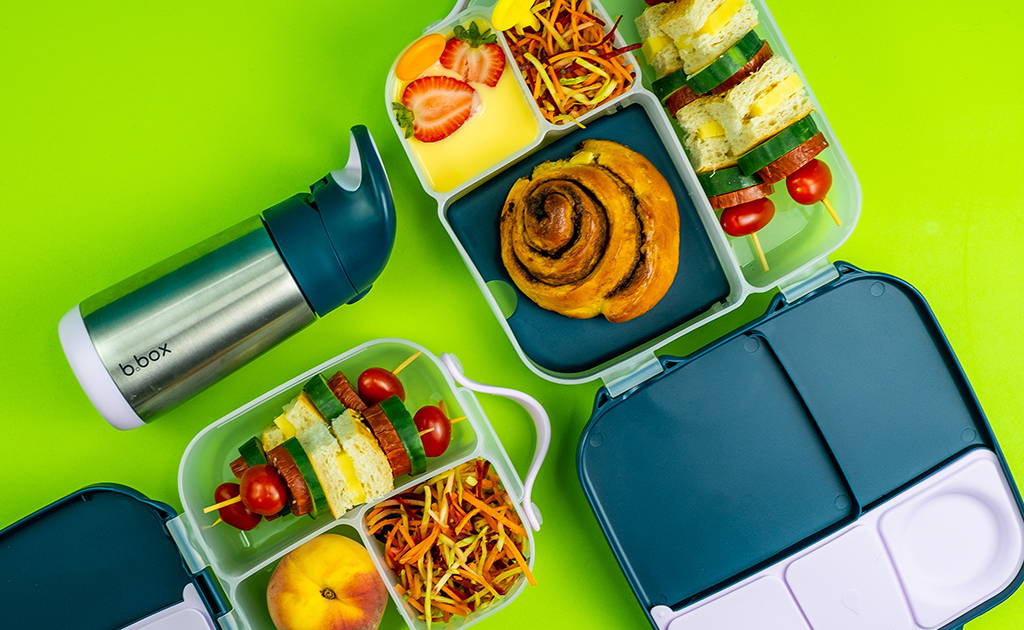 Think savoury; squares of buttered bread with chunks of cheese, cucumber, cherry tomato, mushroom and more or sweet; strawberries, grapes, melon chunks, banana bread – the possibilities are endless, oh so delicious and can easily be adjusted to suit food intolerances and preferences too.
Plus little hands can grip the stick keeping it extra hygienic! And with our lunchbox, you have a custom divider to adjust the compartment size, so fit is never a 'stick'ing point!
Who doesn't love a bagel? Chewy on the outside and dense on the inside, perfect for filling hungry tummies. And you can top with just about anything. A few faves; chicken and avo, tuna salad and for a sweet treat cream cheese and berries (it's like cheesecake but healthy!)
Got a little lady that loves pink? Try mixing your cream cheese with a little jam for extra eat appeal. Another alternative that's sure to be a winner with youngsters is the Pizza Bagel.
Simply top bagel with tomato paste and any variety of tasty pizza toppings – ham, mushrooms, onion, olives, pineapple and of course grated cheese – then grill! Prepare from the night before, and refrigerate in an air-tight container then simply pop into lunchboxes in the morning.
Always make extra, for your rumbling tum-tum. Yeah baby!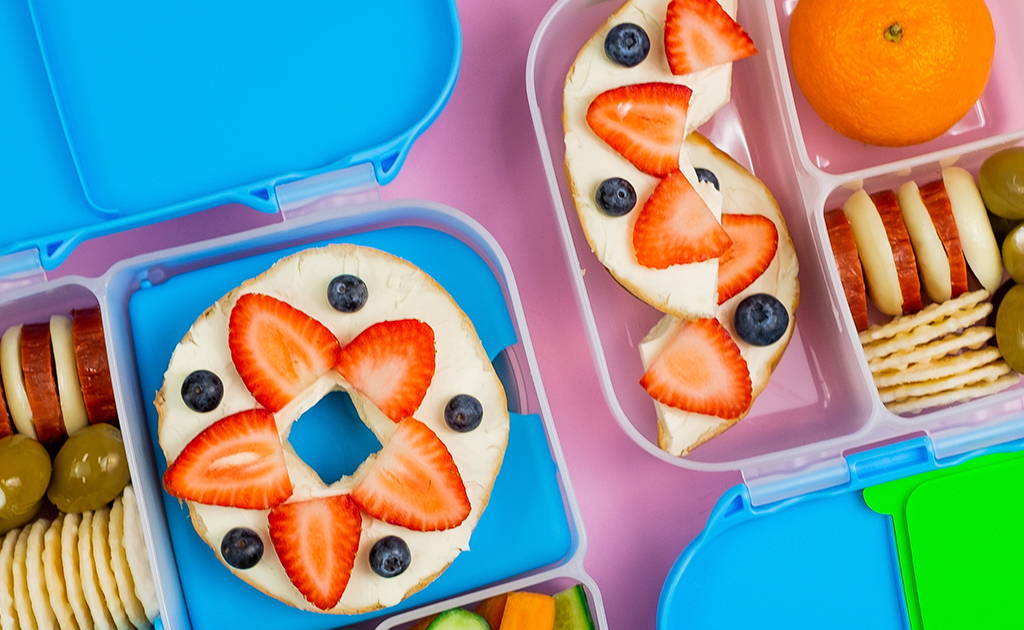 As the weather cools, weekends indoors can be an ideal time to prep for the week ahead whilst spending some quality time with kiddies in the kitchen.
Scrolls are the perfect choice; easy for little helpers to be involved, basic dough only requires a few pantry staples, and they can be made in such a wide variety of flavours you'll be sure to find at least a few that rock your kid's world. Best of all, they freeze well.
Start basic with cheese and bacon or go a bit gourmet with sun-dried tomato and feta. Then sweeten it up with apple and cinnamon or butterscotch.. yum! Ideal for bubs too, just drop into your snack pack for simple snackables on-the-go.
So next time you've got some weekend down time - get out your mixing bowl, pump up the tunes and get cooking… rock 'n'scroll!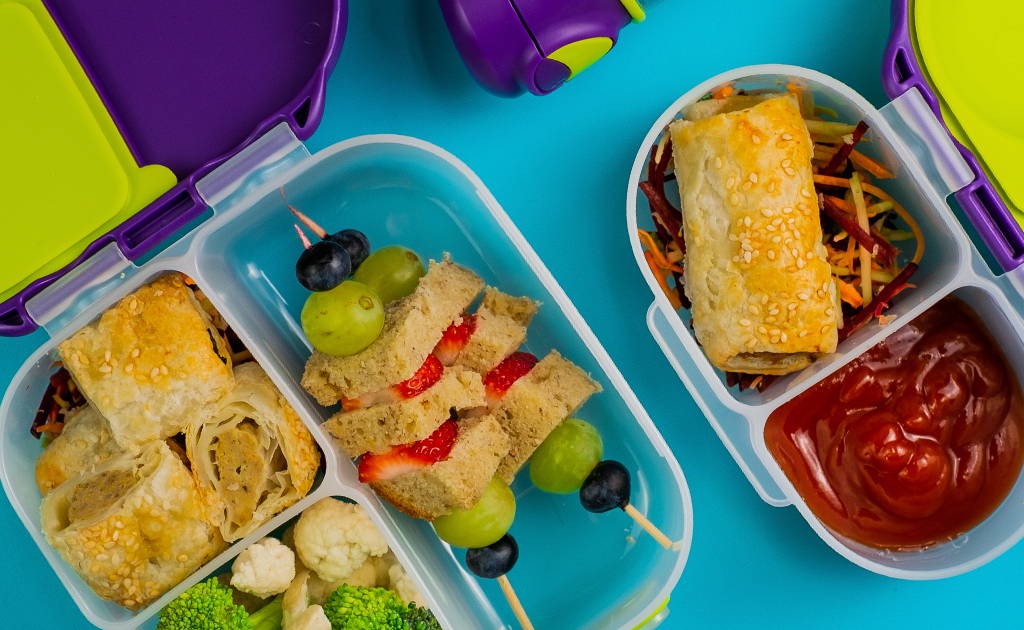 Stock up on croissants for a simple and delicious addition to lunch. Serve plain or fill with any combo that takes your kids fancy like tomato and ham, pesto and cheese – hearty and packed with energy. Or how about some make-at-home pastry pleasers for the more experienced little (and big) chef's.
Think home-made quiches and sausage rolls, make ahead and freeze for ease on those rushed mornings! And with our sealed lunchbox and mini lunchbox compartments you can drop condiments like sauce or chutney straight in.
Add a mini-flork and they are ready to dip and devour (hygienically and mess-free yay!) No more 'I ran out of time' these little morsels are sure to be wolfed-down!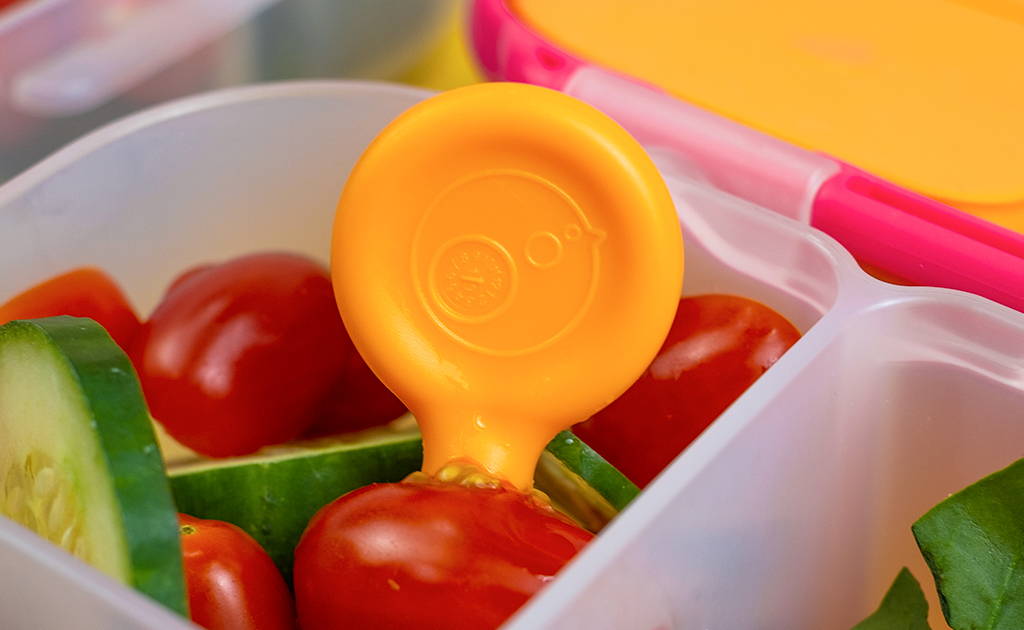 Last but not least, the humble wrap. A great lunch box addition every time because they are easy to prepare. And you don't need to limit to one – for active kids, get fancy with a 3-course lunch: entrée wrap of houmous and cucumber, main wrap of meat and 3 veg, and a dessert wrap fruit-flan style, with cream cheese, cinnamon, and fruits.
Prefer a wheat-free wrap? How about lettuce rolls, rice paper rolls or sushi instead? Wrap it up, pack it up and keep it super fresh with our lunchbox and included gel-cooler. Your kids will be wrapped!
And that's a wrap! We hope your head is bursting with inspiration and fresh ideas - for greater variety, fuller tummies, healthy kids and happy mum's and dad's everywhere!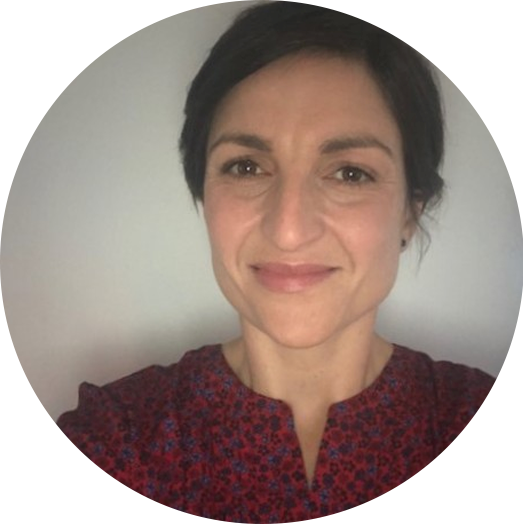 A happy (mostly!) mama of three. Spends her days searching for the perfect balance between being a full-time mama, part-time b.box wordsmith and dedicated coffee consumer. Understands how hectic work and life can be and uses this mantra to live simply: The plan is, there is no plan, just stay as informed as you possibly can. Make choices to suit your family and you. And never apologise for seeing it through. Also, affectionately known as Mama Marie for her random acts of nerdy mumsiness and life mantras!